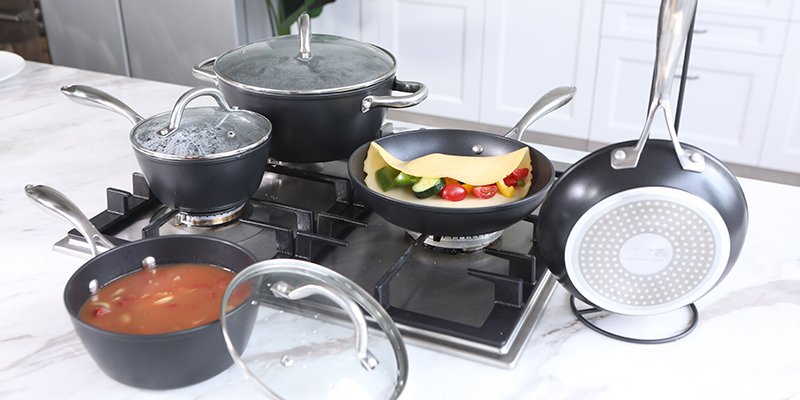 Consumer goods with food contact: The laboratory tests you need
Are you dealing with consumer goods with food contact? Here is an overview on the regulations and tests you should know.
Packaging, containers, dishes, kitchen utensils, and cutlery all have one thing in common - they are commodities that come into contact with food - so-called food contact materials or FCMs in short. They are either intended to come into contact with food at a later stage, are already in contact with food, or are designed to come into contact with food in some other form, for example as part of a production facility.
Consumer goods with food contact occur in a wide variety of materials, for example, plastic, rubber, paper, or metal. Different regulations and limits apply to each of these materials. If these are sold in the EU, either imported or manufactured there, they must comply with specific conformity standards. To ensure compliance with these, various laboratory tests are carried out. This article provides an overview of the applicable standards and associated test procedures.
Why are food contact materials tested?
Food is a commodity that deserves proper protection, since it eventually enters our organisms. In order to ensure the safety of food, the objects that come into contact with it in any form must comply with certain standards.
Materials that come into contact with food must be tested to ensure that they do not release potentially harmful quantities of certain substances, known as contaminants, to the food when they get in contact with it.
In order to sell food contact materials in the EU, no dedicated FCM certification is required. However, the manufacturer must ensure that his product complies with the legal requirements and must also prove this with a declaration of conformity.
Which regulations and standards matter for the conformity of food contact materials?
The general requirements for food contact materials and articles have been laid down throughout the EU since 2004 by Regulation No. 1935/2004. EU Regulation No. 2023/2006 additionally regulates the principles of good manufacturing practice for food contact materials and articles. Specific EU regulations apply to various materials such as ceramics or plastics.
The regulations specify how much of a substance may be transferred to food. Through lab testing, it is therefore checked whether these maximum quantities are complied with. In addition, the assigned laboratory often examines whether there are any non-intentionally added substances (NIAS) in the product.
Items intended to come into contact with food require labeling with the glass fork symbol. This must be either on the items, their packaging, or their labels. However, you may choose not to affix the logo if your product is an item that is obviously intended to come into contact with food. This includes items such as cutlery, for example.
Which products need to be tested?
All so-called food contact materials must be subjected to a test. Food contact materials are all objects that come into contact with food. These can be containers, dishes, but also kitchen utensils, and cutlery. An important item here is the packaging, which often makes it possible for the respective food to be handed over to the consumer in the first place. It also provides essential protection against contamination or spoilage (e.g. protection against germs, light, air, or mechanical effects).
However, it is not only those goods that are obviously in contact with food that have to be tested. Materials or components such as hoses or production machines that come into contact with food during processing with a device must also undergo conformity testing. This includes, for example, materials in production equipment, juicers, microwaves, or coffee machines.
As mentioned above, the EU Framework Regulation No. 1935/2004 provides certain rules and regulations for products that come into contact with food and are sold in the EU. These legal requirements are aimed at protecting the health of the consumer. Accordingly, the substances contained in the contact materials must not pass into the food.
However, there is an exception to this in terms of Good Manufacturing Practice (GMP, Regulation EU No. 2023/2006): If from a technological point of view, a transfer of substances cannot be avoided, the substances are considered to be non-hazardous in a certain quantity and the odor or taste of the food does not change, Good Manufacturing Practice must be complied with.
FDA regulation of food contact articles
The Food and Drug Administration, or FDA for short, is the governmental control authority that inspects all goods placed on the market in the USA. This also includes all imports, which is why the specific regulations and guidelines of the US supervisory authority must also be observed by German manufacturers. So if e.g. German distributors want to sell products in the USA, the FDA guidelines are binding for them.
An important field of work is food monitoring - this includes the inspection of plastic products that come into contact with food, such as production machinery, piping, hoses as well as food packaging, and much more.
Just because a product is approved in the EU does not automatically mean that it also meets FDA food contact approval. In order for your product to be FDA compliant, you must demonstrate that your product is equivalent to a product that is already FDA-approved and available for purchase in the U.S. market.
The FDA has broad authority when it comes to products that do not meet its strict requirements. Safety concerns may result in the product being withdrawn from the market, which is tantamount to a ban on sales.
BfR recommendations for food contact materials
In Germany, the BfR (German Federal Institute for Risk Assessment) also issues recommendations on materials for food contact. Unlike the EU regulations, these are not legal standards.
The EU lists the following seventeen material groups in its Regulation 1935/2004:
Active and intelligent materials (for example, packaging that ensures a longer shelf life of the goods through environmental conditions or that provides information about the quality status of the contents)
Adhesives
Ceramics
Cork
Glass
Ion exchange resins
Metals and alloys
Paper and cardboard
Plastics (including recycled plastics)
Printing inks
Regenerated cellulose film
Rubbers
Silicones
Textiles
Paints and coatings
Waxes
Wood
The recommendations are available free of charge on the BfR website in the database "Recommendations on materials for food contact". The aim of the BfR recommendations is to define the conditions under which there are no transfers of substances from the materials to food that pose a health risk. This is to ensure that no health risk arises for consumers.
Declaration of Conformity: Food Contact Materials
When it comes to the declaration of compliance of food contact materials, a distinction must be made as follows:
It is such materials for which there are formal and content requirements,
or they are materials that only have to comply with the general requirements.
Formal and content requirements exist for plastics, active and smart materials, epoxy derivatives, recycled plastics, regenerated cellulose film and ceramics, metals, and bisphenol A if it is present in paints and coatings.
For items not made of the above materials, there are no specific requirements for the declaration of conformity.
Which criteria are relevant for the selection of the tests?
In order to choose the right test for your product, there are some criteria to consider.
What material is the product made of?
Does the product consist of different materials? Do all these materials come into contact with the food, or only individual parts?
What type of food comes into contact with the product? For goods that come into contact with alcohol or baby food, different guidelines apply than for products such as flour or bread. Here, it is also important to consider whether the intended food is acidic, fatty, watery, or milky, as all these factors can affect the properties of the material.
Is the product designed to be disposable or reusable?
What temperature is the food that the product will come in contact with?
Is the product intended for short contact with food, such as knives, or is the contact time longer, as with containers for storage?
For coated metal goods, note which coating was used, i.e. PTFE, plastic coating, epoxy derivatives, or bisphenol A.
What tests must be performed on food contact goods?
The tests that you, as the person placing goods on the market, must perform on food contact goods depend greatly on the materials used. We would now like to introduce you to some of the most important testing options:
Specific migration test
Migration testing
Migration modeling
NIAS screening
Sensory suitability testing
Total content
Possible tests include checking the metal composition to confirm a claim such as "stainless steel," or testing whether plasticizers in plastic articles migrate to the food. In addition, a test of the specific migration limit, as well as the overall migration limit for food contact articles, can be performed.
As you can see, goods that come into contact with food have to comply with many legal requirements before they can be placed on the market. If you lack the necessary time and expertise, testxchange can reliably assist you in matters of test procedures, product conformity, and certifications. Since we have a worldwide, reputable network of top-rated and accredited laboratories at our disposal, we will find the right one for your testing project within only a short time. Here you have the possibility to fill out our free request form. Advice from our experts is provided quickly and without obligation.