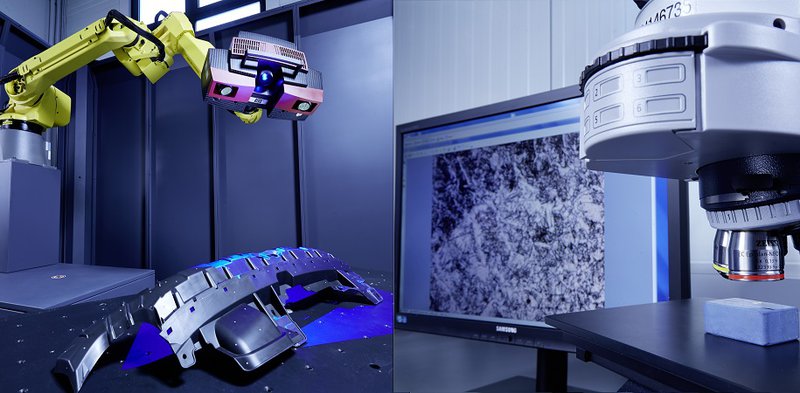 Development, prototyping, and testing from a single source
As a competence center for economic and innovative research and development, the Automotive Center Südwestfalen (ACS) offers a wide range of services, from initial component concepts to production-ready manufacturing processes. testxchange spoke with Dipl.-Wirt.-Ing. Maximilian Munk, Managing Director of ACS GmbH.
Design, simulation, forming, injection molding, joining - and finally testing
Mr. Munk, which test specimens or testing requirements do you deal with on a daily basis?
We mainly dynamically test chassis components and body parts, but also electronic components. These come either directly from the customer or from the internal departments of prototype construction informing, plastics, or joining technology, where they have to be validated as part of extensive development projects. In addition, we also carry out static tests. These include, for example, tensile, compression, and flexure tests with classic standard test specimens.
And what are the most unusual test specimens or tests that you have worked on?
For us, it is always something special when we test components or assemblies that we have developed internally for our customers and manufactured in the form of prototypes, such as a complete battery housing, for which, among other things, various joining processes were used. In addition to a variety of other exciting topics, we have also already carried out service life tests under multi-axial continuous load on a complete front end of a van on the servo-hydraulic test field.
What convinced you to use testxchange?
testxchange offers us a very good opportunity to establish contacts with companies that are looking for common or special services in the areas of development, prototype construction, and testing. This applies not only to the automotive industry but also beyond. We are constantly striving to expand our partner network, the ACS supporting association, in order to further promote networking. Currently, our association already counts 126 companies.
Brief profile of the ACS
The Automotive Center Südwestfalen offers an extensive range of services in the context of component and process-side development and optimization as well as in prototype construction and testing. In addition to the design and simulation of components, near-series prototypes can also be built and subsequently validated in the technology areas of forming injection molding, and joining technology using a variety of manufacturing processes.
In the field of testing, the ACS has servo-hydraulic test rigs that allow static and dynamic testing using flexible setups with up to 14 cylinders (nominal force up to 100 kN). Electronic components, electronic systems, actuators as well as chassis, body and drive components etc. can also be validated under various environmental influences, such as temperature overlay, humidity, salt, dirt etc. The evaluation of standard-compliant tests according to specifications can also be supported by strain gauges, thermal imaging and force rings. Optical measurement technology (gom) can also be used to perform deformation comparisons before and after the test run, validation of numerical simulations, material strength analysis, etc.
In addition, the ACS has an electromagnetic shaker that enables high-frequency fatigue strength, vibration, and shock tests to be carried out, for example, to investigate the service life and aging of joints or to determine and analyze the vibration behavior of individual components through to entire body structures.
In the ACS materials laboratory, extensive material characterizations can also be carried out by means of classic cold and hot tensile tests as well as compression, bending and hardness tests. Furthermore, the material structure can be analyzed using stereo and reflected light microscopy.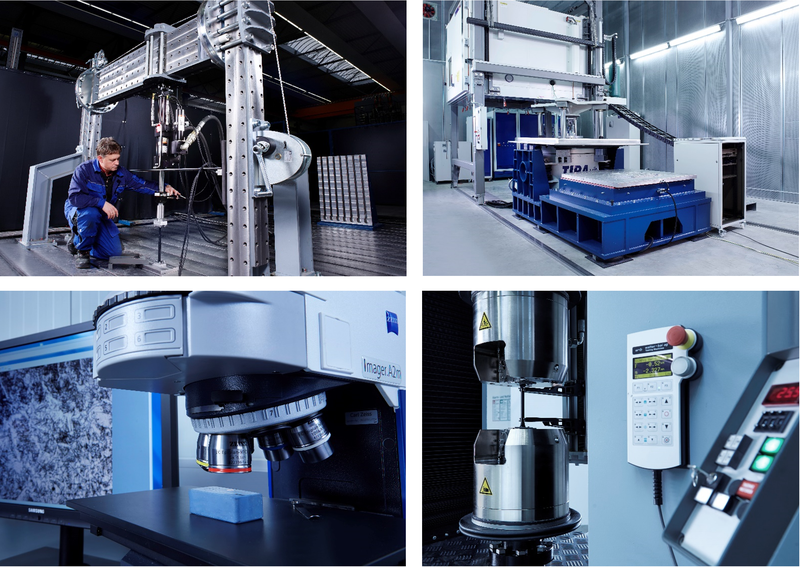 Do you also work for a testing laboratory that covers an interesting testing spectrum? Then write to us at info@testxchange.com!