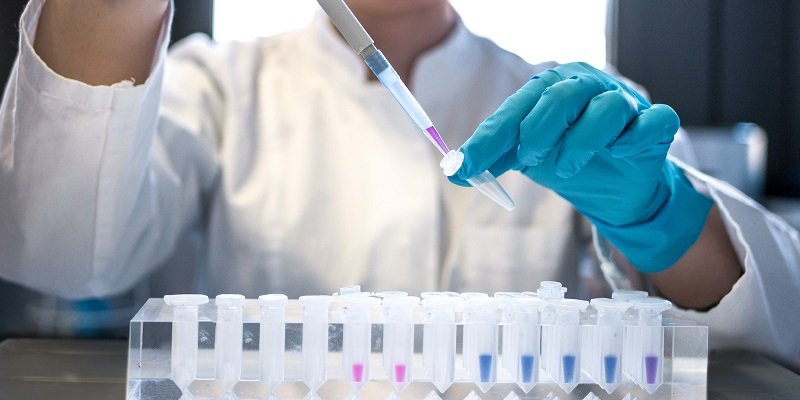 REACH testing: an overview
To protect humans and the environment, chemical substances must be registered in the EU according to Directive REACH (EC) No. 1907/2006, and products must not exceed certain limit values. Who is responsible for the relevant laboratory tests, how do REACH tests work and how do you find suitable laboratories?
What does REACH mean and why do manufacturers need REACH testing?
REACH is the name of an EU directive that came into force on 1 June 2007. The abbreviation stands for Registration, Evaluation, Authorisation and Restriction of Chemicals. The regulation serves to regulate and control chemicals and heavy metals used in a broad range of products used by humans. The aim is to protect human health and protect the environment from harmful risks.
All goods and products traded in the EU must comply with the REACH Regulation. Accordingly, all substances contained in a product must be declared or identified. This is the only way to determine whether a product contains a substance that is already considered toxic or harmful to health. A chemical test can also be used to find out the concentration of a substance in the product. Chemical testing under REACH is important because it is the only way to check compliance with specified limits for certain chemicals. According to the REACH regulation, products and goods must not exceed the prescribed maximum levels of potentially toxic substances or substances of very high concern (SVHC) (see also REACH conformity).
Who is responsible for implementing the REACH Directive?
Compliance with REACH is the responsibility of the companies involved: Distributors, manufacturers and importers are obliged to determine the risks and hazards of the substances or to have their concentration determined by a laboratory. The companies must register the substances and substance mixtures they contain with the ECHA, the European Chemicals Agency. The ECHA examines the substances for conformity with regard to risks and safe use.
Often EU manufacturers are subject to REACH if they produce and supply chemical substances for their own use and/or for other companies. Likewise, importing companies are responsible under REACH if they trade chemicals or finished products (e.g. toys, electrical appliances) in the European area. REACH therefore does not affect manufacturers outside the EU. However, companies using the substances can also be subject to registration with ECHA if they use or handle chemical substances.
Which products have to undergo testing according to REACH?
In principle, all products and goods containing or consisting of chemical substances must be tested under REACH. It does not matter whether the products are used by consumers or for industrial purposes. REACH applies, for example, to furniture, clothing, detergents and cleaning agents, paints, cosmetics, medicines, stationery, toys, electrical appliances, batteries and fuel.
4 questions to Dr Florian Metzelder from lab DTNW
Dr Metzelder, does your testing laboratory often receive enquiries about REACH compliance? What are examples of the types of clients who make such requests?
We receive enquiries from a wide variety of customers from Germany and also other parts of the world. This includes manufacturers of ready-made textile products, manufacturers of outer fabrics, globally renowned manufacturers of textile accessories such as buttons, zips and ribbons, and also globally renowned and broadly positioned traders who import goods and supply them to discount chains, for example. All in all, it is thus a very diverse spectrum of customers who appreciate and want to use our services. The tests can include conformity with REACH on the one hand, but also certification according to STANDARD 100 by OEKO-TEX, which can confirm conformity with regard to REACH with regard to textile-relevant parameters, as REACH has an important influence on the regulated substances in STANDARD 100 by OEKO-TEX.
What are typical examples of test objects that are the subject of such requests?
Typical examples of test items are home textiles such as pillows, towels or bed linen, but also ready-made clothing for different areas (pyjamas, T-shirts, shirts or socks). These articles can also quickly become very complex when it comes to the test requirements due to a variety of accessories such as buttons, zips, different prints on the outer material and fillings.
As a rule, do your customers already know themselves which specific REACH tests they would like to commission from you?
Some customers have already defined very good requirements for the respective goods themselves through many years of experience in the field and then approach us with specific requirements, for example to have particularly critical parameters tested. Perhaps test certificates are already available for individual components, so that these are no longer tested for risk parameters at all or only with very targeted random samples. The parameters to be tested may also be influenced by knowledge from previous orders, where there may have been anomalies and the customer has decided to test this area more intensively or on more samples. In the rarest cases, a complete test is carried out on all different articles, but rather selected articles from the same supplier are tested in random samples. If there are problems, for example, all the different colours are tested for azo dyes to make later complaints much less likely.
For customers with no experience in this area, however, we are happy to provide advice and support in defining the scope of testing. Here, risk parameters can be defined and a risk assessment can also be carried out with a view to the available budget, so that immediate product safety is ensured.
If a customer asks for a proposal for REACH testing, can you describe the rough process for this with a concrete example?
The procedure for such a request is that, in the best case, we receive a sample of the article. Direct inspection of the article is the best way to obtain an overview and define components. In addition, material specifications for the individual components are important, as these have an influence on the scope of the test. For example, cotton must be tested for different parameters than polyester. If no sample can be sent, we need at least good photos of the article or material lists with the components used in order to be able to make a suitable offer.
An example would be a cushion with a filling. Here we first record the different components (outer material, sewing thread, zip, printed care labels, inner cushion and fibre filling). Here, the material compositions are then requested from the potential customer. Based on the materials, the tests are then defined. For metal parts on the zip, the tests are very clearly defined, as one can focus on the metal content. For the other materials, a risk-based approach can then be applied. The upper material, which comes into direct and increased contact with the buyer's skin, is tested much more intensively than the inner cushion or the filling. In some cases, mixed samples between components are also possible if the methods and determination limits of the devices allow for this. This can save additional testing costs and keep product safety high.
What is the procedure for REACH testing?
In general, REACH testing is carried out before market entry by the manufacturer in the EU, by the importer or distributor. Since the REACH Regulation itself does not specify the exact requirements for testing, companies must contact a suitable testing laboratory with instructions (in the form of a test plan). It is also possible to request a REACH test from a laboratory without a concrete test plan. As a rule, the laboratory will then recommend the necessary tests for the selected product. Depending on the material and composition of the product to be tested, the recommendations and suggestions for a suitable test plan may differ from laboratory to laboratory.
In any case, the client must choose a laboratory that offers the required tests for the respective materials/substances. For example, if a textile manufacturing company wants to have its dyed textiles tested according to REACH, the requested laboratory should be able to test for azo dyes. In the case of a product made of wood-based materials, the laboratory would have to test for formaldehyde, and in the case of an electrical appliance that falls under the RoHS directives, compliance with the limit values specified by these directives, for example for lead in soldered connections. Once a laboratory has been found, it will carry out the relevant analyses and draw up a test report. With this, the company can register the contained substances with the ECHA and have them checked for conformity, insofar as registration is required.
Duration and methods of analysis for the determination of a chemical substance
To investigate the composition of a material, the laboratories use various methods for analysis and identification. For organic substances, ultraviolet spectroscopy, infrared spectroscopy, nuclear magnetic resonance spectroscopy, mass spectroscopy, high-performance liquid chromatography or gas chromatography, among others, are used for substance identification. For inorganic substances, laboratories use X-ray diffraction spectrometry, atomic absorption spectroscopy or X-ray fluorescence (see also ECHA on substance identification).
Depending on the extent of the laboratory tests to be carried out, the analysis of a substance can take several weeks. Manufacturers and traders should bear this in mind.
What is the easiest way to find a laboratory for REACH testing?
If you want to save time in your search for a suitable laboratory to identify a substance in your products, simply enquire at testxchange. With us, you can find laboratories worldwide to meet the requirements of the complex REACH Directive, which not every manufacturer or importer understands straight away. If you do not know exactly what testing you need, the selected labs will often ask for a sample of the product/material to be tested. After sending it, you will receive suggestions for the tests you need from the laboratories and can compare them with each other. For manufacturers of textiles, for example, the matrix of the AFIRM Group is a renowned standard. Register free of charge at testxchange and start the laboratory search for REACH tests.