Vehicle-to-everything (V2X)
Vehicle-to-everything (V2X) is the idea of connecting cars and to their environment using WLAN (802.11p) and the mobile radio-based V2X network (3GPP) via 2 to 4G standards and the new 5G standard. V2X thus forms another type of transport networking that links the different types of transport. Park and Ride can be mentioned here as an example: Car traffic has been networked with local public transport.
The use of digital networking results in relevant effects on automobile traffic. Vehicle-to-everything can increase road safety, make transport more efficient and also save energy. This networking is therefore becoming more and more critical for autonomous driving. For this, the connection of the vehicle with the environment is indispensable. Therefore, there are several sub-areas for V2X:
Vehicle-to-vehicle (V2V)
Vehicle-to-road (V2R)
Vehicle-to-infrastructure (V2I)
Vehicle-to-network (V2N)
Vehicle-to-person (V2P)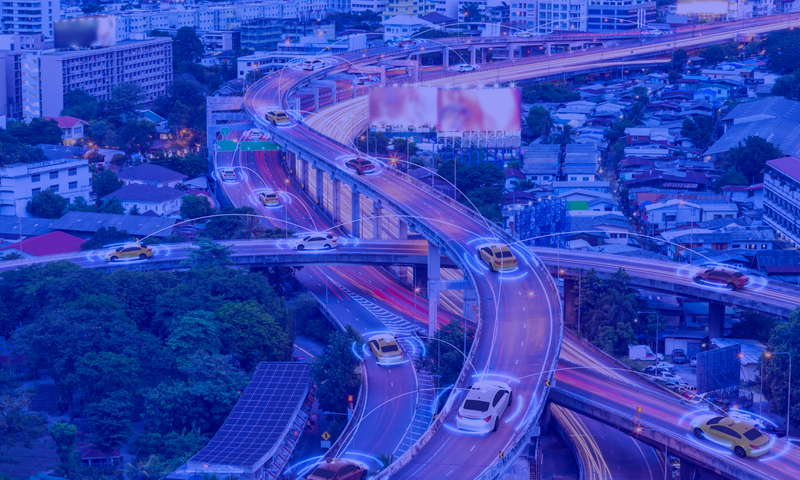 Vehicle-to-everything (V2X) already supports drivers of road vehicles such as cars or trucks through integrated digital applications that protect both the driver and all other road users. Safety systems, for example, help to prevent accidents. These include timely information about road and traffic conditions such as black ice or aquaplaning, rear-end collision protection, lane departure warning, rear-end collision warning (with brake lights) or blind-spot monitoring. Equally good are the automatic emergency call (eCall), intersection assistant, emergency vehicle detector and construction site warning, as well as possibilities for platooning (column formation).
Which test procedures are relevant for V2X?
Manufacturers and suppliers rely on test procedures for the safety and performance of the vehicle and its traffic networking to function correctly. For example, functional testing ensures that V2X technology performs without interference in different (simulated) application situations. Performance testing examines how fast the communication occurs or whether it is fast enough for the corresponding application purpose. For example, if two cars drive past each other, the connection must be fast enough that the vehicles can communicate with each other in this short time by exchanging data. To ensure that all systems in the V2X area work together correctly, an interoperability check is valid. It checks whether the different entities and systems access the same (global) protocols. Other relevant reviews for vehicle-to-everything are:

e-Call checks: They ensure a 100% global communication structure of the automatic emergency call.
Audio tests of Bluetooth components: They check the smooth communication of headset, loudspeaker, infotainment system and smartphone.
Satellite navigation tests
Wi-Fi testing
Cyber security tests
Testing for vehicle for everything?
Do you want to request testing for vehicle for everything purposes? Of course you can request testing also for other products