Get your lab testing done
If you need a testing laboratory or a certification body, do not waste your time searching and contacting them one by one. Instead, simply fill in our request form in 2 minutes and receive offers from our huge network of partner labs and certifiers. Simple, free and no strings attached.
The Right Provider for Your Project
Whatever your testing requirements are - there is a good chance that one or several from the hundreds of testing labs on testxchange will be able to help you. So stop searching and get your testing started with testxchange.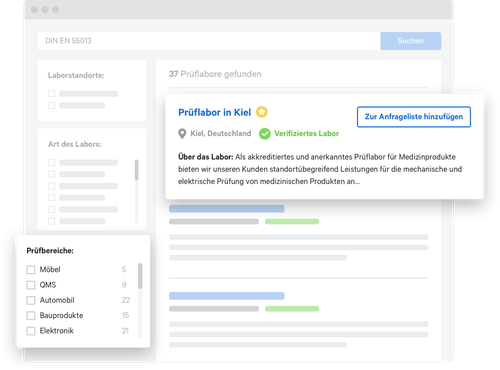 Simply Request Testing Services
With testxchange, setting up requests for testing projects is very easy. Simply fill out the online request form, lean back and wait for offers.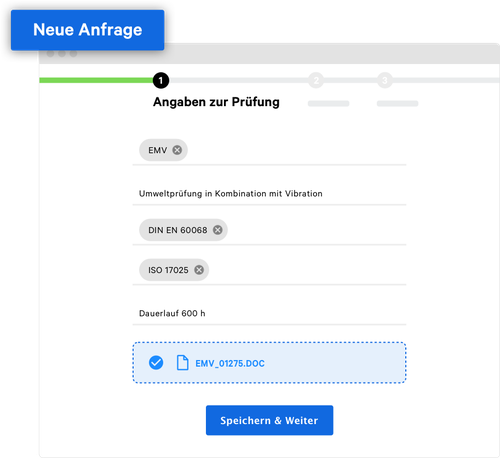 Convenient Management of Testing Projects
In your testxchange dashboard, you always have a complete overview of all your testing requests and completed testing projects. Communicate via chat with labs and team colleagues about ongoing and planned tests, exchange project-relevant documents with labs and more. Everything conveniently in the browser and without installing anything on your computer.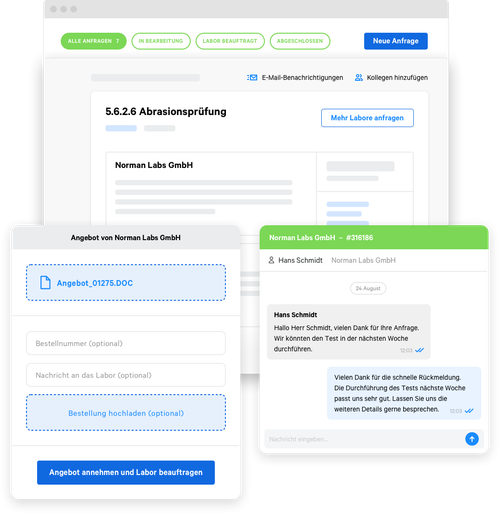 What our clients say
"Making a request to testxchange proved to be easy and uncomplicated. testxchange made the preselection to laboratories, by whom we were contacted."

Guido Kuhrmann

HID Global GmbH
"We will gladly use testxchange in the future as well, we were offered a top-quality and very good service, and completely free of charge."

Detlef Schulz

DISPLAY+DESIGN Detlef Schulz GmbH
"testxchange is a simple tool to make industrial requests and quickly distribute them to multiple laboratories. This was very uncomplicated and after a short time I received several offers from labs. That's exactly how I had imagined it."

Tim Hörügel

Iseo Serrature s.p.a.
Your benefits
Save time
Do not waste time searching and contacting several suppliers manually; just fill in one short form instead.
Save money
Get a competitive offer from a network of suppliers hfrom all over the world.
Smooth process
Get rid of paperwork. Instead, talk to providers and access your testing project 24/7 via our free and secure digital cloud platform.
Your next steps
Simply fill in our free request form to receive offers from service providers. It is 100% free and non-binding, so give it a try!
Do you prefer to find and choose labs yourself to contact them outside of testxchange? Then upgrade to testxchange PRO to get access to our international lab database. Get database access.
Any questions?
In our customer service section you will find answers and contact options. Our team will be happy to advise you which service package best suits your requirements.
More questions? Schedule a call