Regulations on food contact materials (FCMs)
What does Regulation (EC) No 1935/2004 regulate?
The EU Framework Regulation No. 1935/2004 lays down specific rules and regulations for products that come into contact with food sold and traded in the EU. These products include all materials and articles that come into contact with food during production, storage or consumption. Packaging materials used to protect food are also affected by the directive. Like most directives, the legal requirements serve to protect consumers' health. Accordingly, it is not permissible for substances of the contact materials to pass into a foodstuff - with one exception: If this cannot be avoided technologically, the so-called Good Manufacturing Practice (GMP, Regulation [EU] No. 2023/2006) must be observed in food production. According to this, the substances must not be dangerous in specific quantities and must not change the smell or taste of the food.
In addition to the regulation on food contact materials, the EU has issued other rules that relate to specific materials, for example, Regulation (EU) No. 10/2011 on plastic materials, Regulation (EC) No. 282/2008 on recycled plastic materials or Directive 2007/42/EC for regenerated cellulose film. Furthermore, member states are allowed to supplement the harmonised regulations with national laws and specifications, for example, on materials such as glass, metal, lacquer or silicones for which no specific requirements exist across the EU. Manufacturers of foodstuffs must also check whether current EU directives apply to products and must be applied. These could be the REACH ([EC] No. 1907/2006) and RoHs (2011/65/EU) regulations or the Directives on general product safety (2001/95/EC), packaging and packaging waste (94/62/EC), the Low Voltage Directive (2014/35/EU) or the EMC Directive (2014/30/EU).
Maintain product compliance for food contact materials
The biggest safety issue when food comes into contact with materials such as food packaging is that ingredients can transfer into the food, posing a health hazard. Therefore, migration tests are recommended to check the conformity of the regulation. Materials are compliant if they meet the requirements of Regulation No. 1935/2004. Otherwise, there is a risk of fines, product recalls, or a manufacturing/import ban.
In addition to migration tests, manufacturers must ensure the traceability of products and processes from procurement to production and disposal. All materials and objects used for food and marketed must be labelled. A reference as a symbol (glass fork symbol) and in words ("Suitable for food contact") is sufficient. The labelling obligation does not apply to household articles such as coffee machines or cutlery.
To which products does the Regulation on Food Contact Materials apply?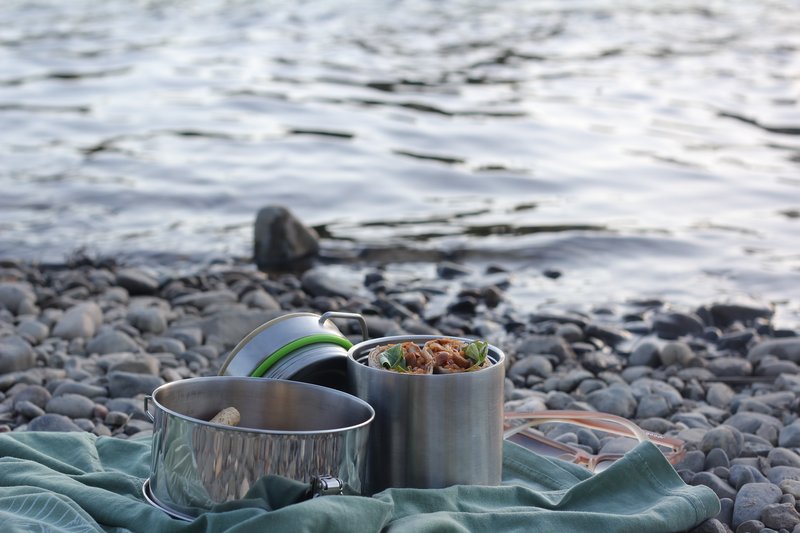 All conceivable objects and materials that come into contact with food - whether for consumption, storage or packaging, or production - are subject to the Ordinance. Also affected are objects that are not initially designed for food but could be used for consumption due to their design (e.g. a jug or plate manufactured as a decorative article).
Items for eating/drinking: lunch boxes, drinking utensils, cutlery, bowls, stainless steel bottles, napkins.
Electronic kitchen appliances: toaster, blender, hand blender, coffee maker
Products for preparation: meat grinder, coffee filter, spice grinder, spatula, whisk, baking paper
Food packaging: Cling film, wax paper, paper bags, cool boxes
(Industrial) food production machinery: ovens, packaging equipment, conveyor belts
Help with laboratory searches and product conformity.
As there is no single harmonised standard for all food contact materials in Europe, manufacturers and suppliers are faced with the challenge of meeting all the requirements of the respective target market. You can quickly determine strictly which ones apply to a product with testxchange. Our portal also provides you with information on suitable laboratories to implement the regulations to confirm the conformity of your products, for example, according to
Directive 93/11/EEC: Release N-nitrosamines and N-nitrosatable substances from elastomer or rubber bottle teats and soothers.
Directive 2005/31/EC: Ceramic products
Directive 2007/42/EC: materials and articles made of regenerated cellulose film
Regulation (EC) No 1895/2005: Restriction of the use of certain epoxy derivatives
Regulation (EU) No. 10/2011: Plastic materials and articles
DIN 10528: Food hygiene - Guidance for the selection of materials for contact with foodstuffs
DIN 3360-14: Domestic cooking appliances burning gaseous fuels - Part 14: Materials in contact with foodstuffs
DIN 51032: Ceramics, glass, glass-ceramics - Limits for the release of lead and cadmium from consumer articles in contact with foodstuffs
EN 14338: Paper and board intended to come into contact with foodstuffs
EN 14481: Materials and articles in contact with food - Plastics
Do you need tests according to the Regulation on food contact materials?
If you need tests according to the Regulation on food contact materials or other tests please feel free to contact us.